DECEMBER 2017 WILL FEATURE ICY BELOW NORMAL TEMPERATURES
We are at that time of the year again, holiday season upon us. And compared to the last two Decembers we have had, it will definitely not feel like anything similar. The last two were relatively warm and dry for many. And does that happen 3 winters in a row? I don't believe I have ever seen it. Therefore, and many other reasons, I think this month will be below normal, and it will remain that way as we head into winter. There are signs of well below normal temperatures into the 15th. Here is what the GFS is saying for then, all I can say, and did say, was "Wow." The below normal graph is basically bottoming out into the white purple!
HERE IS THE GFS MODEL FOR DECEMBER 18th: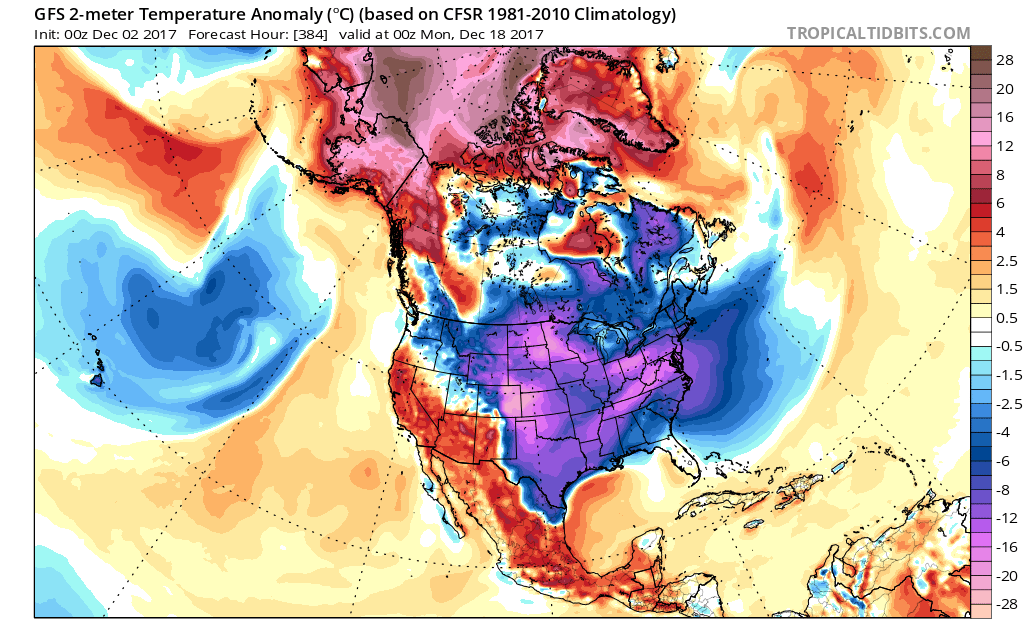 The GEFS ensembles are not as gung-ho, but that is expected as they are an average of model runs combined.
HERE IS THE GEFS ENSEMBLES FOR THE 15th:
In a previous post, click here for the post , I had mentioned this November we had was below normal for many of us in the East and how December could be used as an analog. Two similar Novembers as analogs were 1983 and 1989. The latter year matched more closely this past November's pattern. Using that year as an analog, the following December was cold. Also with the Nov 1983, that December was also cold. Blending the two would say that we will be below normal, and for some people well below. Those in much below can expect highs in the 20s and low 30s, and down into the 10s at night. In the below, they can expect lows in the 20s and 30s, with highs not getting out of the 30s. Perhaps touching 40s in Deep South. Light blue will see highs in the 40s and low 50s at most. Lows in the 30s. In the near normal, well….near normal!
There will be repeated shots of cold Arctic air starting late next week as the pattern will change. After this pattern change will come the possibility for snow, including multiple storms. However, they are likely going to be Clipper systems moving across the North. Behind these quickly-moving moisture-starved systems it gets bitter cold. They won't put down any more than a dusting. These are sometimes common in the Northern States in December.
Take a look at some cool models at www.pivotalweather.com! They are a great source. Also don't forget for official information including you safety, visit www.weather.gov for your local NWS forecast.
Mike Griffith